Monthly Programs
January 2018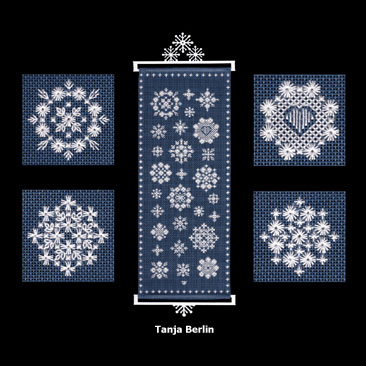 TANJA BERLIN'S HAPSBURG LACE
The Hapsburg Lace Snow Flake Sampler is an intermediate canvas work design. The lacy stitches are worked in Perle cotton on 18 count mono canvas. It is an easy technique, great for all level of stitches and can be worked in the hand in your most comfy chair (no frame necessary). It is also a good project to take with you when you are traveling as it is easy to pick up and put down without losing your place and without having to deal with lots of different threads.
You may purchase this design as Instructions only: $18.00 or as a full kit (blue canvas, white thread): $32.00 Please note that the costs listed are the maximum fees. [We will receive a group discount but there are customs fees also] Fees will be collected at the January meeting when the exact cost of the project is known. If we need to mail this to you, you will pay an additional fee for postage.
DEADLINE FOR SIGN-UPS:
December 15, 2017
Frances Packer will be leading the program for NAS.
If not purchasing kit you will need: 18 count canvas, 8 inches x 15 inches, with appropriate stretcher bars (for full design) and threads for 18 count canvas
Please note that you must be a member of Needle Artists by the Sea (NAS) to participate in this program. If you are not already a member of the American Needlepoint Guild, you need to join that organization as well. Please contact NeedleArtistsByTheSea@gmail.com to sign up.